"(…) A lot is being done for the volunteers. I'm impressed by how smoothly it works." – This is what Natalia Pijet, who has been with us since September, says about Web-Korki. Natalia is a very active person, among other things she plays the piano and studies at a French high school. But the most important thing (to me) is – she is said to bake fantastic cookies!
Your resume is very impressive. Could you tell about yourself, introduce yourself?
I'm 17 years old, in January I will turn 18. I am from Czestochowa. I finished my education in Poland when I was in the first year of high school. I always wanted to be a doctor and study abroad. In August 2021, I went to Denmark. I started studying there in high school for the International Baccalaureate, finished the first grade, and in the meantime I decided that I was not yet ready to go to college next year, so I would go to France for a gap year. I applied and now I'm in the south of France, in the Pyrenees. I am living with a host family and going to a French high school.
As far as I know, you have already done charity work in primary school.
Yes, I have probably started sometime in the 5th grade. In the beginning it was the Polish Humanitarian Action, where we stood and collected money in the store. We were packing groceries for people in return, and I really liked the idea of volunteering. I always know that if not medicine, then psychology, I want to help people.
In the 6th grade, I joined the school's volunteer club and we went a few times to an children's home in Czestochowa, where we just played with the children.
In the 8th grade I organized a charity fundraising event for a little boy who had SMA (spinal muscular atrophy – editor's note), I sold cookies together with my friend, we baked them for a whole week and sold them to everyone at school and I think we raised more than 10000 PLN, including the charity auction.
Then there was a pandemic, so I couldn't do anything much, and during my first year of high school I joined the peer support. We simply talked to our peers about problems. Of course, if we felt the issue was serious, we directed them to the school psychologist, but we were that first option to choose from, and it was an opportunity for all of our high school students.
In Denmark I was active in the Red Cross, where we mainly organized fundraising events. There I also organized, I call it my life project, which was a charity Christmas concert. I've been playing the violin and the piano for more than a dozen years. I organized the concert, where I taught the whole choir how to sing, wrote all the arrangements for the band, bought the decorations, and promoted the event on social media because the concert was broadcasted. During the concert we raised money for a Danish charity foundation.
Then in September, I joined the Web-Korki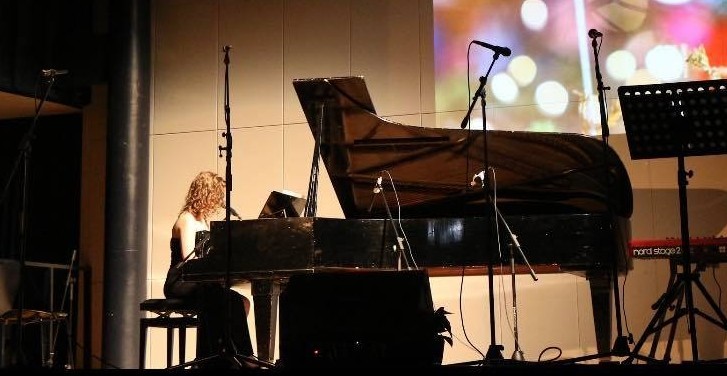 Well, but I would like to go back to that 8th grade. I was very interested in what kind of cookies they were.
(Laughter) I think they were gingerbread cookies, because it was before Christmas.
Will you share the recipe for our blog readers?
Gosh, I would have to ask mom. there were a lot of these cookies, that's all I remember (laughs).
I'm a fan of cookies, that's why I'm asking (laughs). I would like to ask after about the peer support, because it sounds a bit like such a helpline. How did it function?
There wasn't very much of that, it was a new project at school, people were quite shy to ask for help. The way it worked was that if someone had a problem, they wrote to the coordinator and she, knowing us, directed that person to a volunteer.
Sounds like a cool initiative. So you finished the primary school, went to the high school, where you did this peer support, and went to Denmark after your freshman year? I'm asking because there's a lot of it.
Now I'm taking a gap year (at a French high school – ed. note) and next year I'm going back to Denmark, where I'm going to do the International Baccalaureate.
Well, how do you like Denmark? Cool, not cool?
Very windy, I lived by the sea. I would say it's a very interesting country. Completely different from Poland or France. I don't have a formed opinion because of the fact that I was in an international environment all the time, I somehow didn't experience this Danish culture.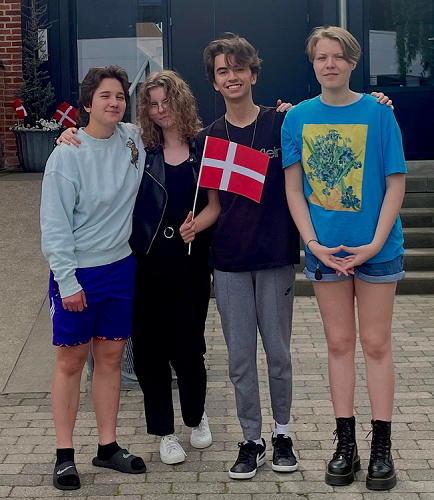 And the school?
The school is wonderful! Very independent and modern. Teachers are addressed by their first name, which was difficult for me at the beginning and I couldn't get over "Mrs. Professor" and "Mr. Professor". The school is very outgoing, there is no tension, which was a little strange for me at first, and I couldn't understand that I don't have non-stop homework, there are no tests every week. I can't tell if it's that much better. Even if you study on your own, you have some kind of plan that you follow, I would still say that for me there is a bit too little checking of this knowledge and I wasn't comfortable with this system. After that year, I know what mistakes I made, and next year when I go back there to pass my high school exams, I will definitely have a different approach to learning. So I would say, this first year in Denmark it's a valuable experience,
And what is your opinion about France?
It's very different. I've learned a lot about French culture because I live with a host family, so I'm in contact with the culture all the time. I go to a state school, where 99% of the people are French. France is a very nice experience for me so far. We have a two-hour lunch break, which is very strange, so I finish school at 6 p.m. In terms of nature, France definitely wins over Denmark and Poland, in my opinion.
And the school system itself, what are your impressions?
It is very similar to the Polish one. I have a lot of tests, probably even more than I had in Poland. The level is very high. There are as many as 35 people in my class. I was surprised that there are only 2h of English.
Music is an important part of your life, could you tell us more about it? Did you go to a music school?
I went to a Suzuki school, it's kind of a Japanese method of teaching by ear. Now I see that it pays off a lot in my life, I have no problem learning languages, I have a very good memory. First I learned the violin, then somehow in the meantime the piano came in. So the music has always somehow been in my life. I performed at academies, competitions, etc.
How did you end up in our Web-Korki?
I was sitting at home, came on vacation and found a post on Facebook that there was just a recruitment for the foundation. I looked for a while, read, it turned out that from 16 it's already possible to join, so I sent an application. After a week, Olga invited me to a recruitment interview. I was very excited and stressed. I felt like it was the most important interview of my life. I didn't know why, but I was very determined to join Web-Korki,
You tutor English in the foundation. You joined us relatively recently, what are your impressions?
I really like the psychological workshops. A lot is being done for the volunteers. I'm impressed with how smoothly it works.
Can you tell us how your organize lessons? What tools do you use? What is important to you?
So, I teach English to primary school's students. We usually start with homework or some preparations to tests. I use websites like engly, worldall or test english. I know that what one student likes do not have to be liked by other. That is why I try to prepare lesson for specific student's need.
You have been away from Poland for 2 years. How is your family experiencing it? You are, after all, a very young person.
I'm an only child, so it's certainly difficult for my parents. You don't hear much about someone going abroad at the age of 16 with no desire to return. There are exchanges, you go away for a year, then come back, but I immediately declared that I didn't want to come back. It wasn't easy to convince my parents. Half a year I was talking about it nonstop. Sometimes I miss them, but somehow I don't feel such terrible homesickness. Now I had such an unfortunate situation, I had to change my host family. In such crisis moments like this I mostly feel that it would be nice if my parents could be here. Because I really have a lot of support from them and I'm grateful to them that they go along with all these ideas I have. They knowthis I sn't the end and I am very, very grateful for that.
And what are your future plans? You're going to go back to Denmark, do the International Baccalaureate and want to go to medical school.
Yes, I have been preparing for 2 years now to recruit to the United States.
Wow, and where would you like to recruit?
I have a list of these nice universities, and I've also found some smaller ones, just by going to Denmark, as well. For example, a friend of mine from Brazil has a cousin who studies law at the University of Pennsylvania. I used to write with her a lot. Meeting people like this makes me more and more convinced that I shouldn't give up on these super schools. Talking to such people, who have gone through the same admissions process as I will be going through, really gives a lot.
It's a very challenging task. And do you already have some ideas about what you want to do after medicine?
I think working with children, I value contact with people. One of the ideas is pediatric oncology. In general, definitely something connected with children. Possibly still neurology because I am very interested in psychology.
You do so many things, where do you get the drive to do it all?
Every next thing somehow gives me such a kick "that look Natalka you have achieved this, then you will achieve the next thing, then the next thing. You'll be that doctor eventually." I don't know, it's very strange. I just can't explain where I get this motivation from. It seems to me that I just want to.
You are a super inspiring person. Thank you very much for the interview.
Thank you as well.