Marta Pikiewicz is a graduate of the Cracow University of Economics in the field of Finance and Accounting. She's an active member of the ESN and AIESEC organizations. Marta spent six months on an Erasmus + exchange in Paris at the Sorbonne! And from October, she is starting a double master's degree under the Erasmus Mundus Global Studies program in Germany and England. 
How does she find time for charity work? How her typical day in Paris looks like? And how to get into the Erasmus + program?
First of all, I would like to congratulate you from the bottom of my heart for receiving the scholarship of the Polish Minister of Education for your significant academic performance. You are great!  You are a very active person, you study full-time finance and accounting daily at the Cracow University of Economics, and you are active in associations and foundations. Furthermore, you are an ambassador of PwC company and the United Nations Association in Poland and additionally you participate on student exchanges! Wow, then what did make you join us yet and how did you manage to find a free hour during the week?
Activity in the Web-Korki Foundation gives me a sense of agency and the possibility of providing real help. In addition, it sensitizes and humanizes through direct contact with young people from orphanages. I am glad that during lessons with children I can share my values ​​with them, provide inspiration and help them create a better future. I am a young student, so the age gap between me and the student is not big, which is a huge advantage. I have the impression that thanks to this, young people are more interested and passionate about learning. We have a lot in common and we can easily find a common language.
 Tell us about your relationship with your student.
For a year now, I have been conducting extra English classes with a student from the 8th grade of primary school. We have friendly relations, respectful of course. The most important thing in a relationship with my student is to build trust. My student feels comfortable and expresses her emotions freely. This is very important because the nature of the lesson is adapted to how the student feels on a given day. I think that over the last year we have managed to create a "scientific" bond.
Do you have any proven teaching methods that you use in your classes?
I am convinced that the most important aspect of learning English is to break the language barrier. That's why I put a lot of emphasis on conversation. I want the communicative skills of a foreign language to be a competence that my student will benefit from in everyday and professional life. My method is to prepare a vocabulary base on a given topic, then create simple sentences together and use them as tools for creating a dialogue. From my observations, this model is effective.
And how does your typical lesson usually look like?
We start the lesson with a few minutes of conversation about the student's well-being. Then, together we determine the course of the lesson because the most important thing is the student's comfort. Usually, we consolidate the material from school in half a lesson, and then we move on to oral exercises. Of course, there is no single, consistent lesson pattern, because proper learning of the English language requires a multidimensional approach.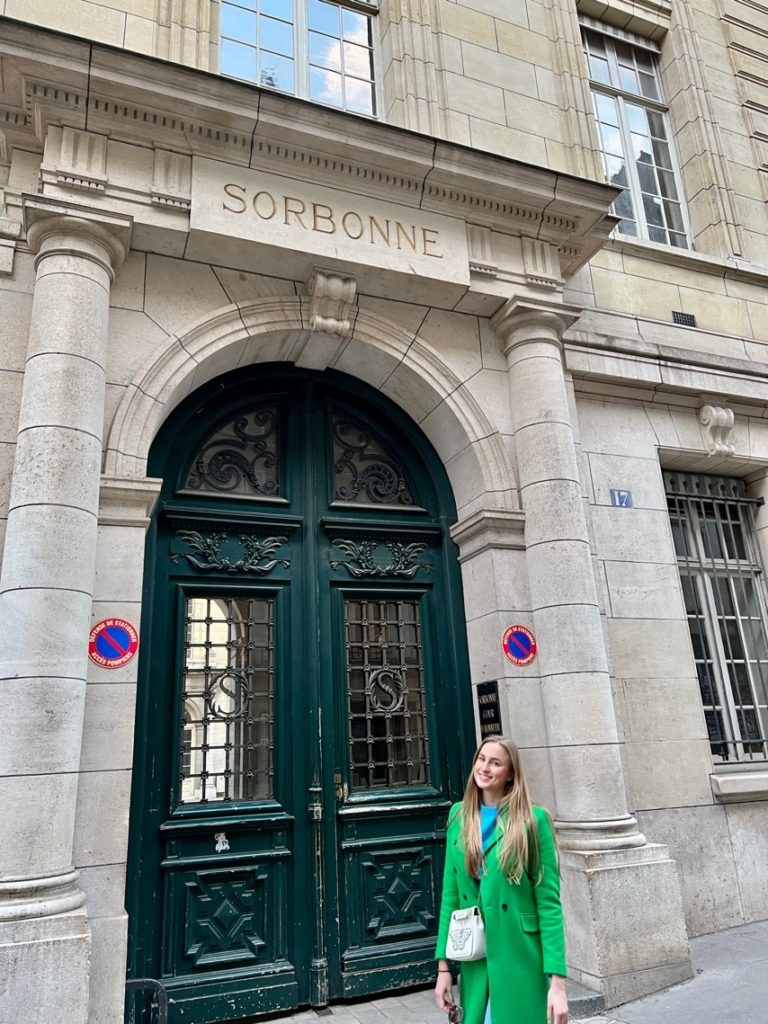 This is the last question before we continue the conversation, what do you like most about Web-Korki Foundation and what do you think makes our foundation different from other organizations?
The Web-Korki Foundation is distinguished by a great concern for the quality of services provided to students. Foundation coordinators pay great attention to the regularity of classes. In the event of a tutor's indisposition, a replacement will be provided immediately. In this way, the student is never left alone with a scientific problem, he or she can always count on a solid support. I really appreciate that. The foundation is growing intensively and getting bigger, yet still offers a personal approach. Great communication, support, and attention to detail.
Great, now there is nothing to wait but let's move on to questions about your personal development, which you put a lot of emphasis on. I'm very curious about the program of the United Nations Association in Poland, what is your role there and could you tell us more about the association?
For the last year, I had the pleasure of acting as the ambassador of the Sustainable Development Goals at the United Nations Association in Poland. The main goal of this program was to raise awareness of SDGs among young people. The program was based on creating two projects that achieve selected goals and at the same time gained as many stakeholders as possible. The UN 2030 Agenda and the essence of the Sustainable Development Goals are our future, which we should create wisely and consciously.
 What inspired you in childhood to personal development, interest in finances, and global problems? Where can young people look for their interests?
As a child, and later as a teenager, I attended the Children's University of the WSB University, which functions to this day. It is an interesting initiative that allows the child to get to know the scientific community in a simple and friendly way. As a young student, I participated in lectures and practical classes in many scientific fields. There I found a lot of inspiration and developed my interests.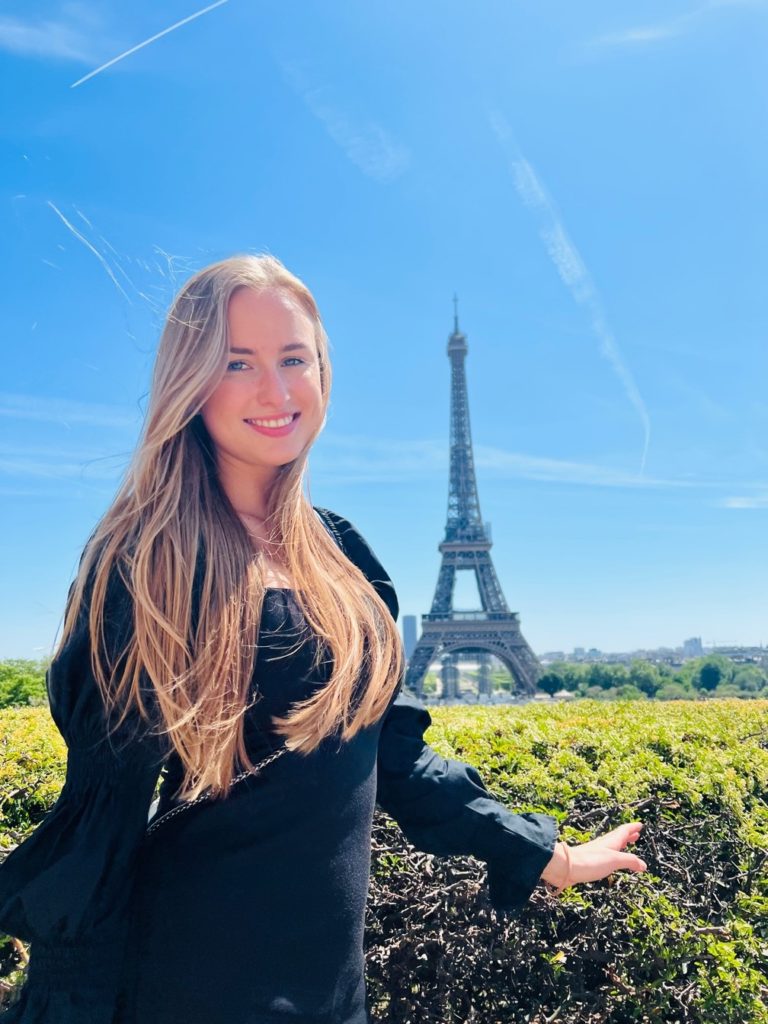 Good, thank you very much, I also know that you recently returned from an Erasmus in France, what city you were in and why exactly did you decide on this country?
I spent the academic winter semester of 2022 on an Erasmus + academic exchange in Paris. I studied at University 1 Paris Pantheon-Sorbonne. France is a multicultural country with beautiful traditions. There is nothing more French than Paris itself! Who doesn't dream of having a baguette picnic in the Champ de Mars, under the Eiffel Tower? Or about an evening walk around the Louvre? These are the beautiful experiences that studying in Paris can offer. Students from all over the world and creating international contacts are the essence of Erasmus trips. It is also worth mentioning that every citizen of the European Union aged 18-26 will visit most Parisian museums for free. In addition, the French government partially finances housing for foreign students under the CAF program. France is student-friendly!
Paris seems to be a wonderful place, full of magic, have you noticed any cultural differences during this semester, for example in the approach to studying?
The French people are very serious about studying. They are usually ambitious and diligent students focused on success. Rather, they prefer to act on their own and enjoy competition. On the other hand, social life is an extremely important aspect. They have meetings in cafes or along the Seine in their blood. They like to feast and respect their traditions. At the same time, they value freedom and multiculturalism. Paris is the capital of fashion and it was the Parisian style that surprised me the most. Monochrome style and simplicity dominate
And would you tell us what your typical day was like and what places particularly stuck in your memory?
My typical day started at the university and ended at the museum. On the way, a French baguette and a visit to the library. The most beautiful educational memory for me was the subject of development policies, where the teacher changed every three classes. First, I had classes with the employee from the European Commission, with whom we simulated a potential EC project. The lectures with the Professor of Harvard Kennedy School on public finance and finally classes with the professor working at the World Bank. It was very inspiring and will remain in my memory forever.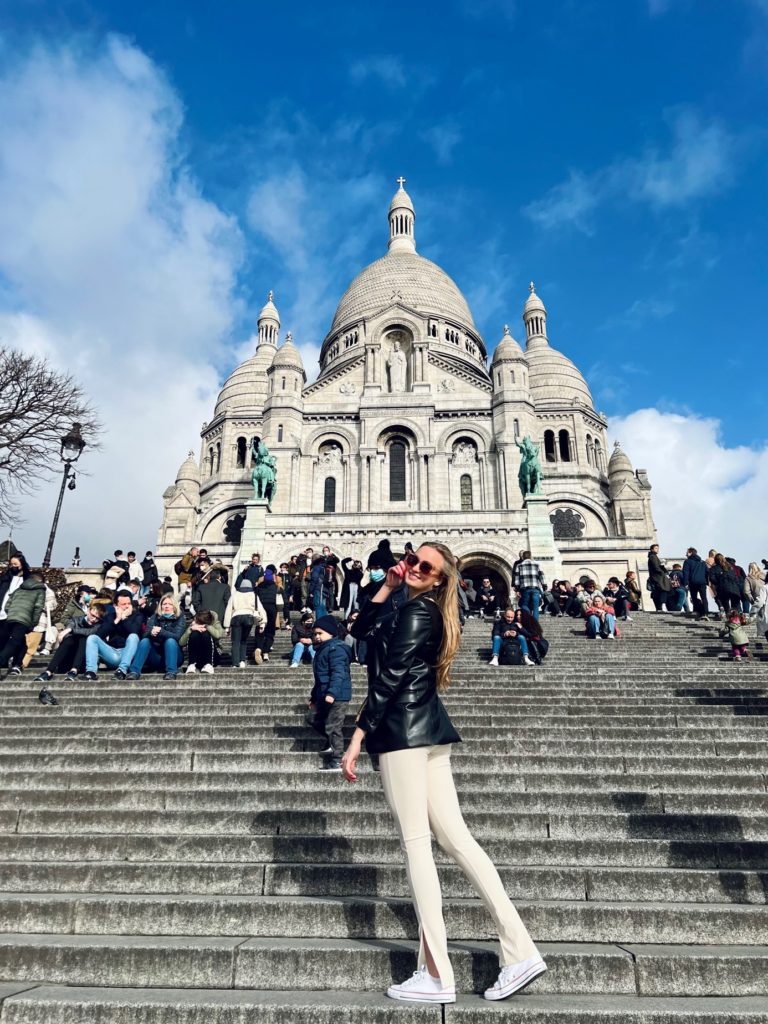 And would you be able to recommend to us what to visit/eat while in Paris?
I especially recommend a long walk through the French streets along the Jardin du Palais-Louvre-Jardin des Tuileries route, then Place de la Concorde, and finally the Arc de Triomphe. It's a beautiful route. In addition to the Eiffel Tower, it is worth visiting Montmartre hill and the Sacre Coeur basilica located on it. And for the evening an unforgettable attraction in the famous Moulin Rouge cabaret. The Latin Quarter, which is the building of the historic Sorbonne and Pantheon, is also noteworthy. Paris also has two small islands, Ile de la Cite and Ile Saint Louis, which are home to Notre Dame Cathedral and Saint Chapelle. And what you should eat is definitely onion soup, snails, and crepes!
 Probably a lot of people are wondering what requirements need to be met in order to fly on Erasmus, what does it look like in practice? And can people who do not have a lot of money also apply for the trip?
Erasmus + is a wonderful program! Recruitment takes place twice a year and it is organized by the home university. The international cooperation department at a given university is the place to contact. The recruitment process takes into account grades and additional activities in student organizations, research clubs, and volunteering. Each student can apply to any partner university. The Erasmus + program offers a scholarship for people qualified for the exchange. Depending on the country to which we travel, it is about 300-500 euros per month. In most cases, this covers the cost of housing and partly food.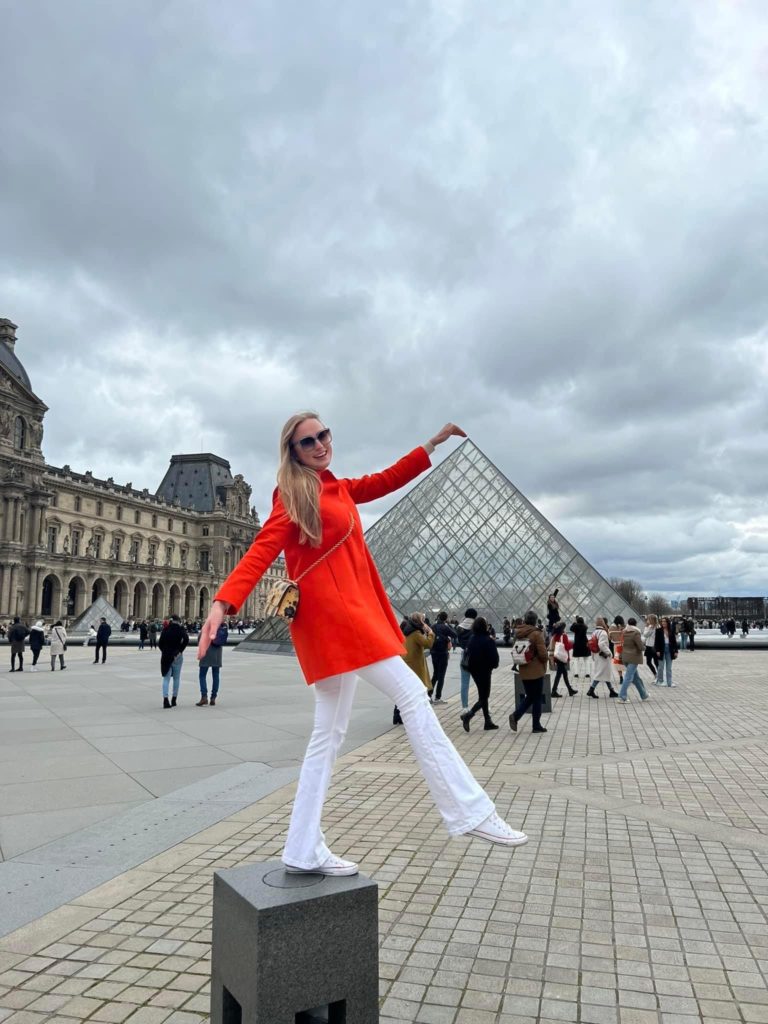 After returning to Poland, did you have a lot of catching up at the university?
The scope of the material in a given semester at the home university should fully coincide with the subjects carried out at that time abroad. Unfortunately, there are often curriculum differences. Then the student has to pass the subjects for a minimum of 21 ects credits abroad and after return, pass the subjects of the curriculum differences. In France, I passed 4 exams and then there were 3 more waiting for me in Poland. It was a very intense time.
Would you perhaps have for us some anecdotes related to your stay in France? Any adventure that has stayed in your memory?
Definitely visiting the public laundry, as there are no washing machines in the student flats. A visit to a French laundry is as normal as a visit to a grocery store, and there is a laundry service on every Parisian street. Everyone uses it regardless of their material status. However, this place made me dizzy! I have an image of myself marching with bags of clothes and washing powder in the streets of Paris. Nightmare! 😉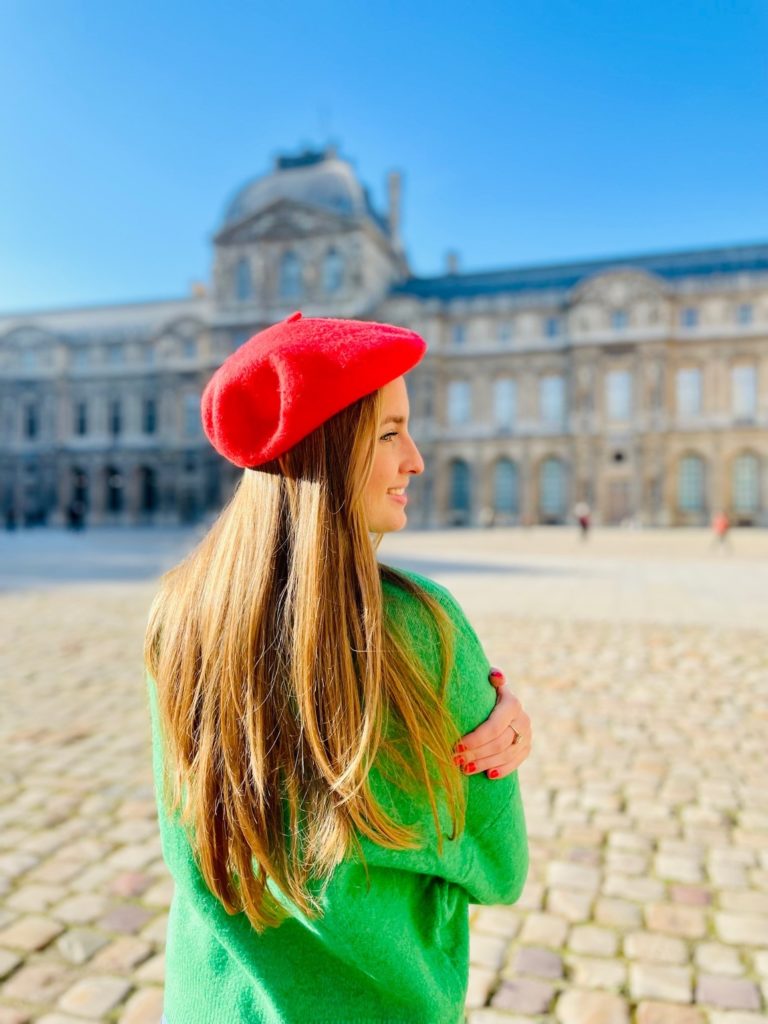 You travel a lot, enjoy life, and take advantage of the opportunities that arise thanks to the fact that you study, what advice would you have for people who are thinking about going on Erasmus? Or start studying at all? Is it worth it?
After three years of being an active student, I have the impression that this is the most exciting period in my life! The world gives students a huge amount of opportunities that can be beautiful adventures and at the same time a great work experience. The European Union offers many funded programs for young people. It would be a sin not to take advantage of them! An Erasmus + exchange for six months is a real school of life. This trip changed my perception of the world. I am more courageous, self-confident, and aware of how much learning and possibilities are still ahead of me. Erasmus + stimulated my ambitions and appetite for development. I also recommend that you familiarize yourself with the offer of internships and short Erasmus + projects.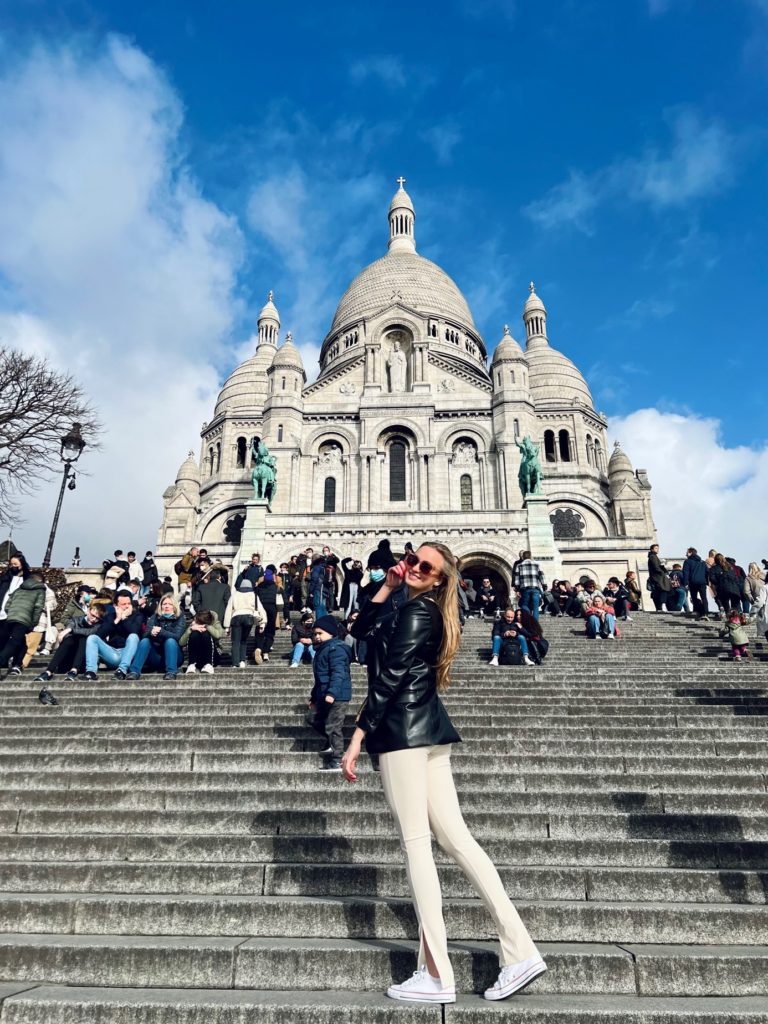 Well, and what's next? What are your plans for the future? Because they are probably very colorful, I have heard about the idea of a double diploma trip to England and Germany, what does it consist in? And how can you get into such a program?
During my stay in Paris, delighted with international education, I decided to apply for a double master's degree in Global Studies under the Erasmus Mundus program. It is a program of the European Union created by a consortium of universities from all over the world. The program lasts 2 years, each year you study at a different university and graduate with two Master's degrees. The competition is tough and the requirements are high, but in my opinion, it is within the reach of any ambitious student. A great advantage is a possibility of receiving funding for these studies. I encourage the youth of the Web-Korki Foundation to familiarize themselves with this program! I will be studying at the Leipzig University and the London School of Economics.
It's really amazing, I absolutely support the idea ! What motivates you the most to conquer the World ? Thank you so much, you are an extremely brave, motivated and inspiring person ! I keep my fingers crossed for all your plans and I'm extremely happy that despite such a busy schedule you find time for another person dedicating yourself 100% pro bono. You could "fly" but you are firmly on the ground and aware of social needs. Thanks for the interview and glad to have you on board .
Thank you! I hope that the youth from the Web-Korki Foundation will use the above information and gain courage to travel and educate abroad. My great motivation is the desire for adventures, experiencing a colorful youth and broadening horizons. I like anything that challenges me and requires me to get out of my comfort zone. Such challenges shape me and I begin to perceive the world differently. I am convinced that our students community can rock the world!