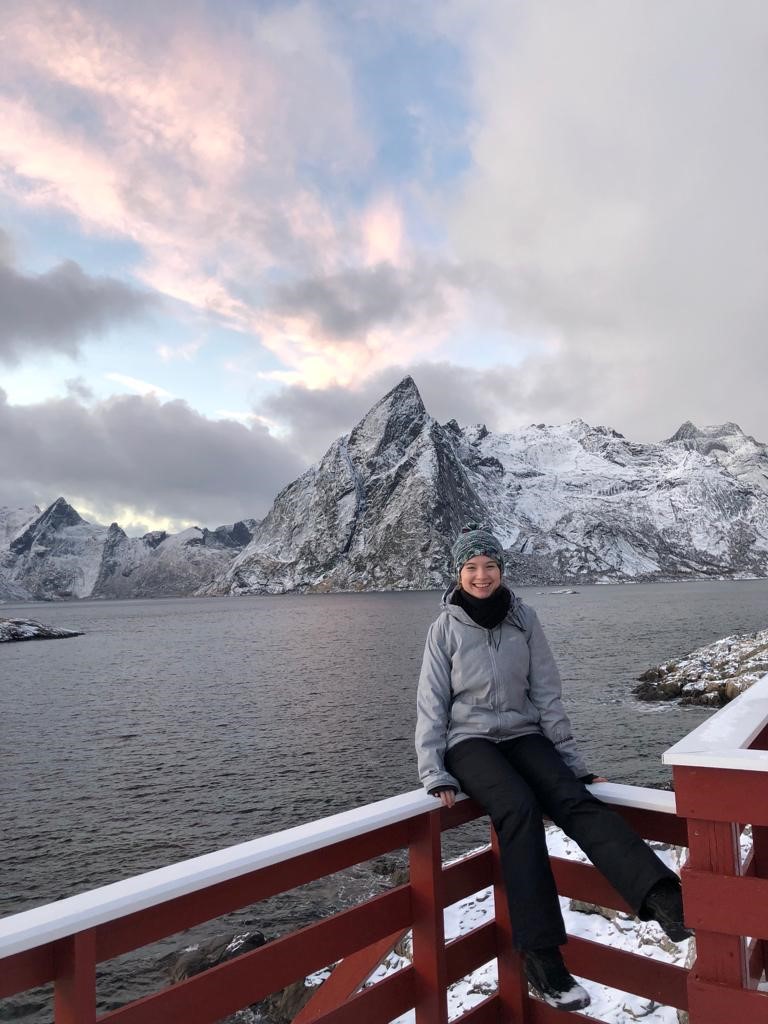 Katarzyna Sumara is a graduate of the Cracow University of Economics, majoring in Accounting and Controlling. During her studies, she participated in the Erasmus+ exchange program during which she spent half a year in Stavanger, Norway. She is passionate about swimming, traveling, and learning German. At our foundation, she was running english classes. What places in frosty Norway captivated Kasia the most? Is it really so cold in Norway? She tells Olga Kotyk – President of the Foundation – about her wonderful adventure on Erasmus in Norway.
I remember our recruitment interview very well because you were connecting from…Norway, where did you do your Erasmus, why did you decide to spend a semester of study there?
That's right, it was in Norway that I decided to spend one semester abroad during my bachelor's studies. I had always wanted to fly to Scandinavian countries, but not knowing why I always headed to southern Europe in my trips. I was interested in the education system in Scandinavian countries, and the language itself, and I also wanted to verify whether I would really freeze up spending the winter semester in Norway as my friends and family thought. 😀 I can't hide the fact that my biggest dream was to see the aurora borealis and a glacier, which further motivated me to apply for the Erasmus program in this country.
In what city did you do the exchange and where did you live? (Was there, for example, a dormitory)
My exchange took place in the city of Stavanger, in the western part of Norway. I actually lived on the very campus of my university – the University of Stavanger. My dormitory was called "Red boxes" because of its color. However, that's not the only thing special about it – I formally shared the kitchens with 10 people, but there were many more of us every evening. The variety of smells wafting through the air, as well as the food on the plate, is the essence of Erasmus's experience.
Do you remember your first day at Erasmus? Were you excited or full of anxiety?
The first day of Erasmus, as well as the entire first week, is my best time during this entire exchange. I remember exactly how excited I was about this trip counting down the days when I would finally be on the plane to Stavanger. I remember perfectly my hunger and readiness to talk to every person I met. That's why during the trip from the airport to the dormitory while standing at the bus stop, I asked a guy, who was also standing with a sizable suitcase if he was going in the same direction as me. One question turned into a conversation in English, telling each other about our studies, the subjects we would have at the university, and our excitement about the whole exchange. After nearly 20 minutes of conversation the question of where we were from came up, and that's when it turned out that we were both from Poland, we both studied in the same city and even flew on the same plane! To this day, Kamil is one of the closest friends I still keep in touch with after Erasmus and I know it is a friendship for the long haul. During the first week, the university organized a "fadder week," a kind of familiarization week for foreigners and freshmen. Each day we took part in various activities such as sightseeing, a hike on Preikestolen (a cliff located on the Lysefjord – one of Norway's biggest tourist attractions), and evening concerts. The variety of events, as well as the people I met then, completely exceeded my wildest expectations!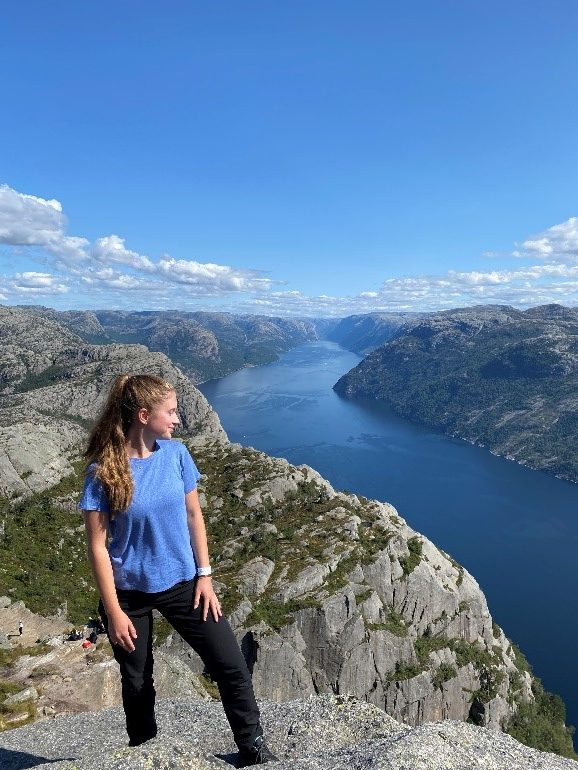 After returning to Poland, did you have a lot of "catching up" on the material at the university?
I had to make up curriculum differences by taking 4 exams, but the semester in Norway ended right before Christmas, so I had almost a month to study for exams. It's a good idea to write right at the beginning of the semester to each professor to determine the form of credit for a particular subject. I was lucky, because, as it turned out, the lectures for the whole group were online, and from the materials available on the Moodle platform I was able to do the mandatory tasks of the classes on my own.
What did your day off usually look like? 🙂
During each day off I gloated over the beauty of the country. Most often, as a group, we traveled through fjords, mountains, and glaciers, or surfed on nearby beaches. Yes, surfing in Norway is possible, and this sport surprisingly is most often practiced in winter, when the waves are the highest! In the evenings, nearly every Tuesday in my dormitory, we organized "cooking around the world" – a group of people from a particular country prepared traditional dishes. I also participated in events organized by the university – courses related to starting my own business, hackathons, laser paintball, or bowling, among others.
And what has captivated you the most in this country?
Definitely nature – there is something for everyone in Norway. Breathtaking fjords, sandy beaches with high waves for surfing, mountains, or Trolltunga – "Troll's tongue" waiting to be conquered, as well as majestic glaciers. During my exchange, I traveled a lot, and the most memorable trip for me was to the north with a group of friends I met. We visited Tromso, where at 2 pm it was already dark and cold enough to allow us to taste mulled wine from a nearby store. From this town, we also set off on a cruise to the island Skjervøy up north in search of whales, a bunch of which we managed to see. We also drove down the Lofoten Islands, where sunrises before 11 am and sunsets after 1 pm were breathtaking. Each day we drove into the distant darkness, where the lights of street lamps did not reach, to see the most beautiful phenomenon in the sky, which is the aurora borealis. We saw the showpiece of Norway, the red houses contrasting beautifully with the white of the snow, as well as the famous – Fredvang Bridges. We played a snow battle on a soccer field in snow up to our knees, as well as on the snowy streets of Trondheim. The beauty of nature in Norway is indescribable, I recommend everyone to experience it for themselves – something amazing!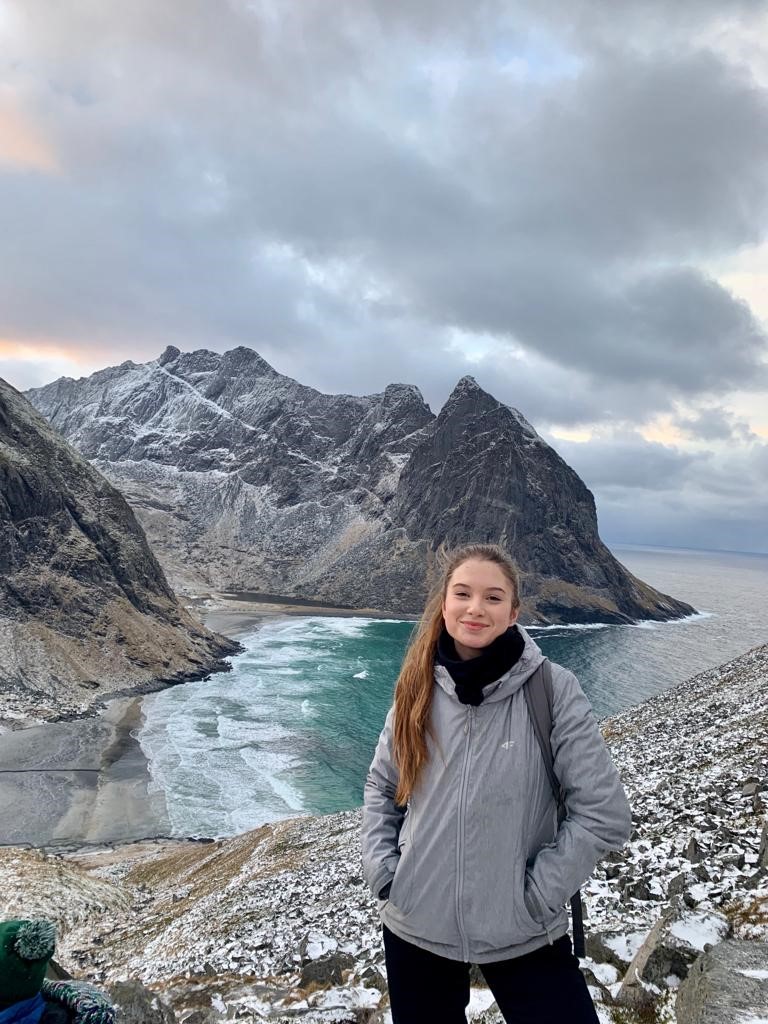 Did you notice any cultural differences between Norwegians and Poles?
The main difference I noticed was their closure to going outside their group of friends. This approach to new people was even evident in public transportation – on the bus you could see that the seat next to each person was empty.  Norwegians value their privacy very much, so they are more likely to go out to meet friends in a restaurant than to invite them to their homes. Despite this "frigidity" in their relations, they are, despite appearances, friendly. This was noticeable, among other things, in the customer service in the store – always helpful and with a smile on their faces, even when I clumsily tried to ask in Norwegian "can I pay with cash?".
And what are the typical delicacies of Norwegians?
The first delicacy of Norwegians is Gudbrandsdalsost, which is simply brown cheese made from goat's milk and cow's milk. It is eaten sweet, such as with waffles and blueberries, as well as salty, such as used in dry sauces, or simply eaten in the form of sandwiches with bread. Other treats I couldn't resist are chocolate bars called Kvikk Lunsj, as well as chocolate also made by Freia, available in different versions.
What is the cost of living? Norway is definitely famous for its high prices, what kind of "pocket money" does Erasmus offer and what is it really enough for?
Yes, I can only confirm that Norway is famous for its high prices. I was able to jump over this financial barrier thanks to a scholarship awarded by the EEA project, which actually offers twice the pocket money offered by the Erasmus+ program. The aim of the project is to reduce economic and social disparities within the European Economic Area (EEA) and to strengthen bilateral relations between Poland and Iceland, Liechtenstein and Norway in the field of education. The program is expected to contribute to strengthening human potential and expanding the knowledge base in Poland. This objective is realized through the mobility of students and university staff carried out under COMPONENT II "Mobility in Higher Education." The amount awarded enabled me to cover my monthly living expenses and travel to Norway.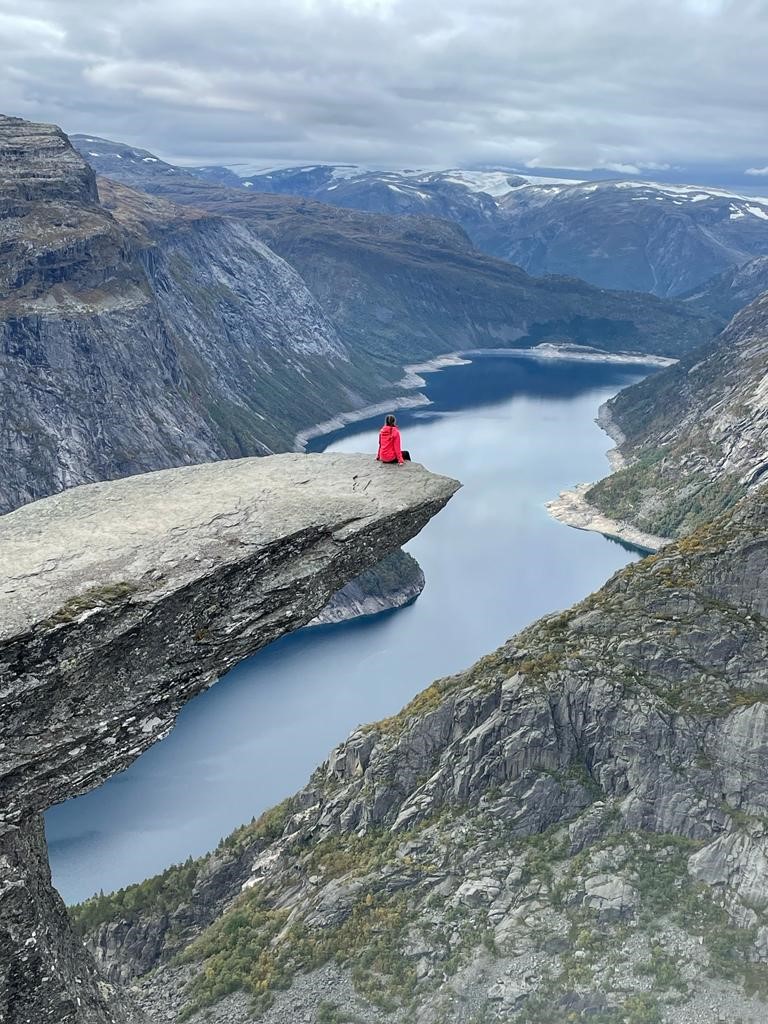 Do you have any advice for people who are considering participating in Erasmus?
Go! Don't think a minute longer just apply and let yourself experience one of the best adventures of your life! The trip is also a chance to find ourselves in another country and face new challenges. It's an opportunity to open up to make friends for years to come – it's not worth missing.
As for choosing a place for the Erasmus+ program, I suggest not looking among the very popular places to which everyone flies, because sometimes the unknown "tastes better". It is worth reading about the university itself, familiarizing yourself with its offerings, as well as its location. I would advise you to talk to yourself, about where you would most like to live for a semester, what kind of place interests you, or what language you would like to learn or get to know what culture interests you most.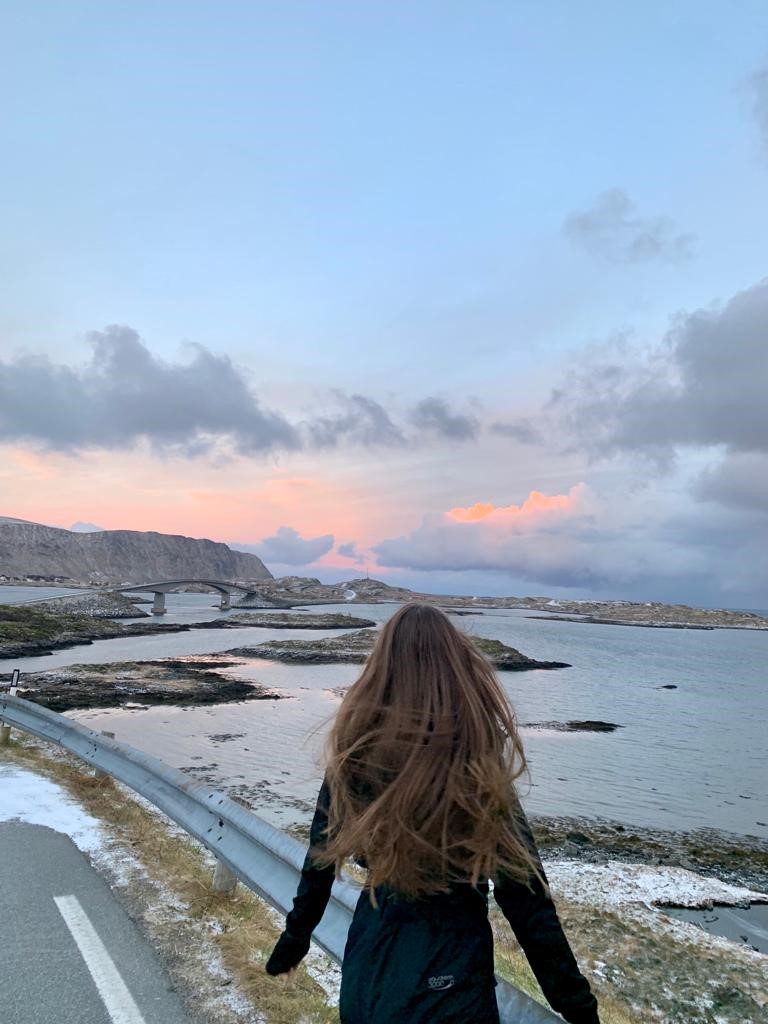 Okay, now let's move on to your role in the foundation, you have been a tutor with us for a year now and you teach a wonderful student, tell us a little about her 🙂 (age, subject, what she is like in character and your relationship)
My student is 15 years old and starts high school after the summer. Kinia was quiet at first, she seemed slightly shy to me, but always smiling. After a few honest conversations, it turned out that we shared a common history – a rough start with German. Throughout the year, we worked together on the basics of the language, and most importantly on changing Kinia's attitude toward learning it.
For the first six months of our lessons together, I was on an exchange trip to Norway, during which I often told my student about the places I visited or the people I met. I was very keen to shorten the distance between us and encourage her to talk. At first, Kinia answered the questions I asked her in shorthand, but one day there was a breakthrough. I remember telling her about my passion for swimming, after which Kinia began to tell me about the style she learned in her last lesson at the pool, and also shared with me her other hobby of makeup. That's how, from each subsequent lesson, my student surprised me with her new makeup tricks or progression in a particular swimming style. I am very grateful for this year together with Kinia and the beautiful friendship we have created together.
And do you have any methods for remote learning that you use during your classes?
During my remote classes at the university, I myself learned very well how hard it is to stay focused in front of a computer monitor, so I introduced some variety during my classes with Kinia. I noticed that Kinia is a visual learner, so in the prepared materials for each lesson, I added a lot of colors, bold, or pictures. My student's attention span increased the more often she engaged in the lessons, so after, for example, each grammar topic was explained, I asked her to read the examples given. At the end of each class, we did online assignments on platforms such as Wordwall or Kahoot.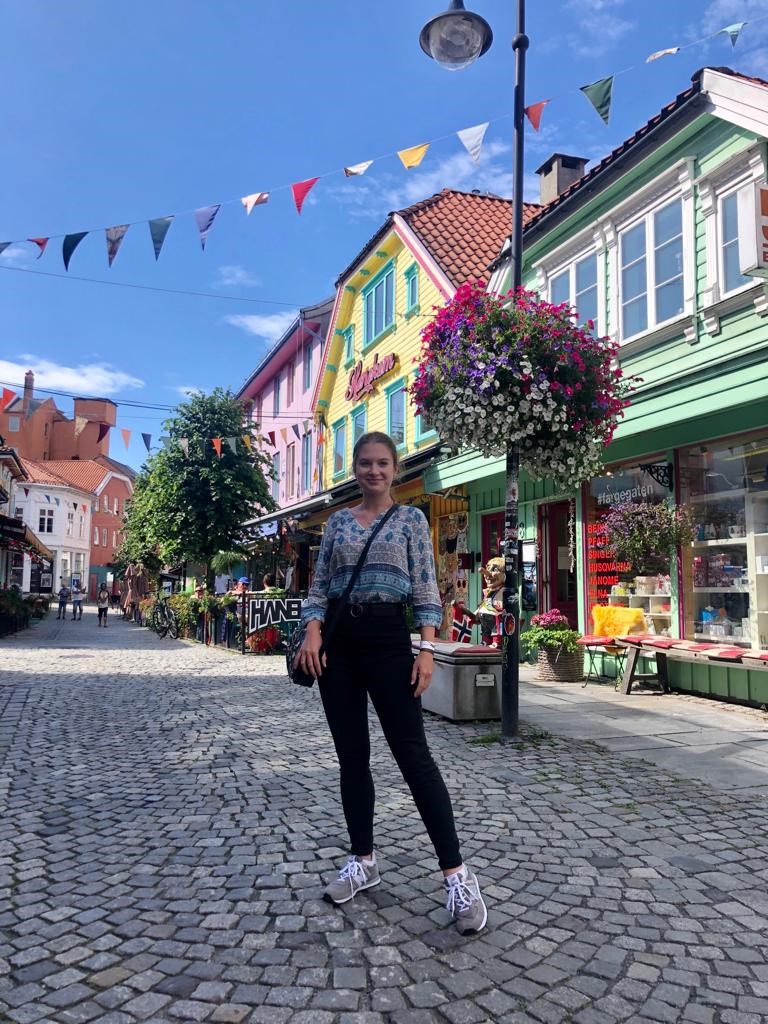 Do you use apps or programs to make learning more interesting?
Yes, I mostly used platforms such as Wordwall or Kahoot. I provided Kinia with a screen and asked her to guide me in marking answers. Later, we would discuss each example together and clarify any doubts that arose. Such interactive games helped a lot in remembering the issues, mainly grammatical ones. I also often reached for materials on the Youtube platform, because I know that listening to songs in the language also helps in learning it.
This is the last question from my side – what does your typical Web-Korki lesson look like? 🙂
We start each lesson with a loose conversation. Kinia tells me about her week at school mentioning, among other things, what German material was covered in the last class, but she also tells me about her additional activities, such as make-up or swimming. I next ask Kinia what material she would like to practice in class, as meeting her expectations for our meetings was a priority for me. From my own experience, I knew which issues were the most problematic, and it was these that I focused on explaining to my student in the most convenient way possible. We ended each lesson with a Kahoot, Wordwall, or a Youtube video.